Kakatsitsi
Master Drummers of Ghana
One of Africa's leading traditional drumming groups. Over 12 UK tours, including appearances at WOMAD, Glastonbury and numerous folk festivals.
Mobius Loop
A coalition of creatives
Mobius Loop weaves their musical minds into a beautiful tapestry which offers colour in sound and folklore storytelling of modern day society.
Yogev Haruvi
Human rhythm machine
Yogev Haruvi is a one-man organic trance party from Israel. Creating a powerful live performance using an eclectic drum set and didgeridoo.
Tanook
Dynamic percussion duo
Percussion band consisting of a conventional drum kit and a hybrid version mixed with samples & loops – music to make you dance!
Jaly Fily Cissokho
Senegalese master kora player
Jaly Fily Cissokhocomes from a family of musicians, whose skills and traditions have passed down from generation to generation. 
Forest of Fools
Full on party
Forest of Fools fuse traditional instruments with funked-up, high tempo beats, charting a course into the depths of the musical unknown.
snipit-and-the-hotrocks
ska and reggae
Snipit and the hotrocks, an up and coming ska/reggae/punk festival party band, after a full speed 2019 playing festivals in the south.
Ruben Yon'ton & Api Ascaso
Sound Journey Performance
Ruben Yon'ton &  Api Ascaso bring an immersive music session that includes a deeply grounding yet expansive ritual element
SouthWestsiide
The All Skool Hip Hop Party Band
SouthWestsiide delivers golden age hip hop with there original All Skool twist . Melting their own style with sublime crowd interaction.
didge-tall-paul
Didgeridoo live looping
Didge Tall Paul aka Paul Cook, didgeridoo performer, buider and teacher for close to 30 years. Performing a multi-instrumental live looping set with guests.
Unity Loops
100% freestyle Hiphop
UNITY LOOPS features a unique blend of live looped beatboxing with improvised synth wizardry, guitar, bass, and didgeridoo.
OmniVibes
Mysticool Sitar
OmniVibes aka Paul Jackson has the skills to transport the listener to nirvana with the enchanting sounds of India reverberating through his Sitar.
Woodland Studios
Inspired by nature
Three brothers from Liverpool, inspired by nature and good music. Using traditional instruments such as violin/viola and guitar, and vocals.
dj-1172
A box of vinyl and some wheels of steel
Graeme Sweetapple aka DJ-1172 is an all-embracing eclectic DJ, playing a wide range of music from all genres, periods and places.
Alex Akal
Multi Instrumentalist
Alex Akal is an experimental musician who connects contemporary music with traditional instruments.
Steve Frost
Native American flute
Steve Frost shares the mesmerising power of the Native American flute through live performance and handcrafting these beautiful instruments.
Didgebeat George
One man rave
Didgebeat George creates a powerful live performance
playing djembe and didgeridoo. Known for tempo changes which drive the audience into a frenzy.
Chris Puleston
Eclectic global journey in music
Chris Puleston music is inspired by Hindu mysticism and who accompanies his songs on an amazing array of instruments from all around the world.
Archie watts
Organic Psychedelia
Archie plays the Rubab, a lute-like musical instrument originating from Afghanistan, along with a cosmic drone including natural and psychedelic sounds.
Flamin' Wet Gurus
World music
A musical collective, combining folk, world music, funk and reggae, with the occasional didj or flute, and drums… lots of drums!!!
Didge Syndrome
Dige Guitar & Beatbox
Didge Syndrome is a multi-instrumentalist who uses Electric Guitar, Beatboxing, and Didgeridoo through a loop station
Chessi O'Dowd
British acoustic singer songwriter
Chessi writes about the everyday issues that she's passionate about such as the environment, mental health and the pressures of social media culture.
Lulila-Rose
Devoted to The Way of Her Heart
Lulila is a Creatrix, she allows the Divine Love and Light to flow through her and she Creates Songs, Chants, Dances and Activations.
Wildwood
Dynamic didgeriduo
Wildwood is a didgeridoo duo s
pecialising in fast pulsing rhythms and counter rhythms alongside hypnotic trance-inducing beats.
kyle-maplesden
traditional yidaki
A renowned didgeridoo player, Kyle has performed and lectured at a number of institutions around the world and has taught didgeridoo playing for 20 years.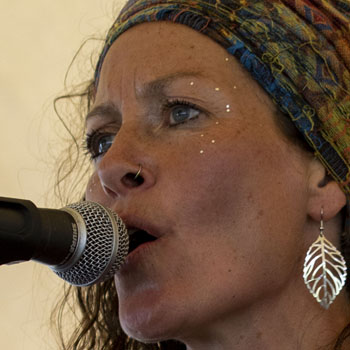 Lou Noble
Songs from the heart
Lou Noble sings with stunning passion and technique. The audience reads the real emotions of her performance and it draws them in.
Mica Sinclair
Songs from the heart
 A creative wizard that let's the melodies unfold as she unfolds herself. Spreading harmony and insight through a rhythmic strum and thoughtful lyrics.
Rooted Elements
Songs for the earth
Rooted Elements have produced a unique sound for all you Hip Hop heads and bass junkies out there. Offering something for everyone.
The Shakti Sings Choir
Songs for the earth
 Shakti Sings is a community choir that sings for the earth; honouring the sacredness of water and earth with the power of sound and harmony.
Wild Hearts Rose Project
Shamanic Channeled Music
Wild Hearts Rose Project was spontaneously created at Elementary festival 2021. Creating channeled sound bath meditations and journeys.
Synergised
Inspired by the nature of the universe
A magically modern tribal-jazz experience. An abstract original band with powerful conscious vibrations not limited to one genre
Astrorambler
Inspired by the nature of the universe
Mixing the sounds of handmade musical instruments to create folktronica, immersing the lister in a relaxing and chillout soundscape.
Inkcap
Timelessly angelic vocals
Singing songs of love, life, and its myriad twists 'n' turns, Inkcap brings you on a journey of true sonic beauty inviting you to float away on the musical waves of life.
Michelle's Musical Mud
Unsuspecting moments of unplanned musical Joy
Michelle is an inspired performer, creator, and inventor of a variety of musical Instruments using raku fired clay